ニュース

Tour of Japan 2022 News
Mitsubishi Estate presents Tour of Japan 2022 2nd Stage Fujisan<Report>
Friday, May 20, 2022
Weather: Cloudy
Temperature: 22℃ (11℃ at Finish point)
Number of spectators: 9,850
Benjamin DYBALL (TEAM UKYO) conquers the queen stage, FUJISAN and TEAM UKYO completed one-two finish two days in a row
The second stage of Mitsubishi Estate presents Tour of Japan 2022 comes to Fujisan (Mt. Fuji), so called queen stage. The race started at the west gate of Fuji Speedway like last year. After four and a half laps of the circular course used in the Tokyo 2020 individual time trial, the tough course runs up the Fuji Azami Line to the fifth station of Fujisan.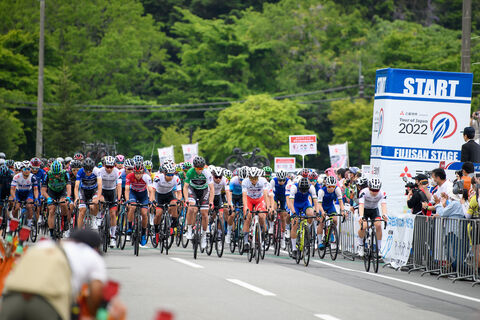 As soon as the race actually started, the breakaway was formed by 7 riders led by Ayumu WATANABE (AISAN RACING TEAM) and Daiki MAGOSAKI (SPARKLE OITA RACING TEAM). The front group made a time gap of up to 2 minutes and 40 seconds to the peloton and went ahead of them on the circuit course. In the peloton, Takayuki ABE (UTSUNOMIYA BLITZEN) stayed at the front and calmly controlled the main group. Eventually, the breakaway and the peloton left the circuit course with a time difference of 2 minutes 34 seconds and headed for the Fuji Azami Line, the stage for the decisive battle.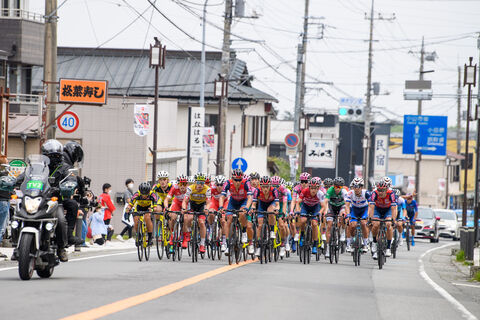 The main group quickly closed the time gap at the connecting section to the Fuji Azami Line, and almost absorbed the break at the starting point of the Fuji Azami Line. Genki Yamamoto (KINAN RACING TEAM), who had remained in the breakaway, made a solo attack as they passed the 10km mark, but was caught by the chase group at the point of 7km to go.
At less than 6km to go, Nathan EARLE and Benjamin DYBALL (both TEAM UKYO) attacked together and left all the riders behind in a flash. Thomas LEBAS (KINAN RACING TEAM) and Nariyuki MASUDA (UTSUNOMIYA BLITZEN) chased the front, and four riders of the front group started the battle of stage win.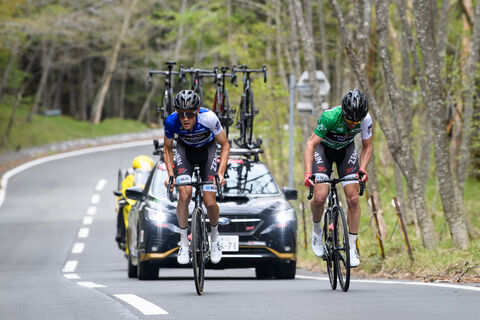 LEBAS, at the third position desperately chased the two riders and closed a time gap of 25 seconds to the front, but EARLE and DYBALL performed excellent climbing ability. Finally, DYBALL won the queen stage with a time gap of 44 seconds to LEBAS at 2km to go and even 55 seconds at the finish line. Green Jersey Wearer, EARLE placed the second with no time gap to the winner. This means that TEAM UKYO completed the race with one-two finish two days in a row.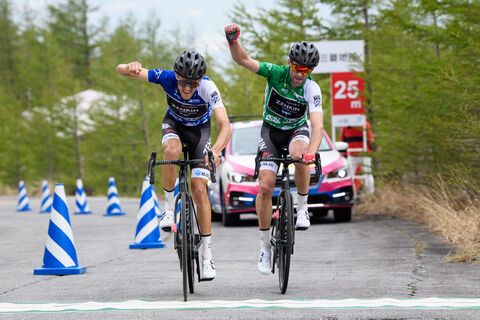 LEBAS placed the third in the end and Marino KOBAYASHI (MATRIX POWERTAG) finished the fourth place, who overtook the 2021 GC winner, Nariyuki MASUDA (UTSUNOMIYA BLITZEN).
Benjamin DYBALL (TEAM UKYO)
"It was obviously a hard stage today. It was great for the team that we could finish one and two. Mt. Fuji is always hard and we don't know what will happen, always surprises me. It has been already very successful tour for us. We try to continue winning, but other teams also plan the race well. We have a very strong team, so hopefully we can hold on to the jerseys."
Nathan EARLE (TEAM UKYO)
"To keep this Green Jersey, it was very honor and success for the team. We all worked hard to make it possible with very good team roll. Ben won the stage and I placed the second, keeping the Green Jersey is very happy and honor. We had a very good success now, but we still need to respect other competitors. Anything can happen in the race, so we need to take a control and be careful, but we will try."
Taishi MIYAZAKI (UTSUNOMIYA BLITZEN)
"I thought that I might lose the Red Jersey today, but I could defend the White Jersey.
More than that, I wanted to support Masuda-san better, but TEAM UKYO was too strong and I was very disappointed that I could not do anything to compete with them. Abe-san did worked well in the first half and I wanted to climb hard in the last half. But I had trouble acclimating to the high altitude, and my power was about 10% lower than usual. I now know how difficult the race in Fujisan is. We have already decided what we can do as a team, so I hope we can work together as a team and perform a good race tomorrow."