ニュース

Tour of Japan 2022 News
Mitsubishi Estate presents Tour of Japan 2022 1st Stage Shinshu Iida<Report>
Nathan EARLE (TEAM UKYO) wins the Shinshu Iida stage which is held for the first time in three years
​​​​​​​TEAM UKYO claims the first and second place
Thursday, 19th May, 2022
Weather: Sunny
Temperature: 24℃
​​​​​​​Number of Spectators: 15,000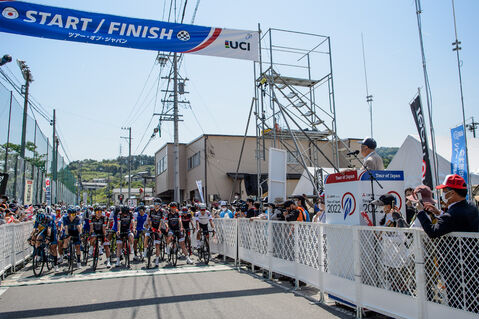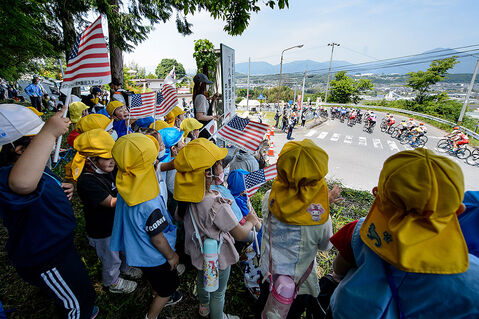 The Mitsubishi Estate presents Tour of Japan 2022 started in Iida city, Nagano prefecture as an opening stage. The stage in Iida city is returned to the Tour of Japan for the first time in three years and renamed from Minamishinshu to Shinshu Iida stage. Although the start/finish point was changed, the hard circuit course remained the same, and from the first day, the favorite riders battled it out to win the general classification.
Several attacks were repeated early on, but the MATRIX POWERTAG controlled the race at a high pace. The main group did not easily let the breakaway go forward. In the fourth lap, the four riders finally formed the breakaway, by Manabu ISHIBASHI (TEAM UKYO), Hijiri ODA (EF EDUCATION-NIPPO DEVELOPMENT TEAM), Hayato NISHIO (NASU BLASEN) and Genki YAMAMOTO (KINAN RACING TEAM). The race settled down after building a time gap of up to one minute to the peloton.
The race moved in the sixth lap, when the breakaway of four riders was caught by the peloton. Then, two riders, Masahiro ISHIGAMI (EF EDUCATION-NIPPO DEVELOPMENT TEAM) and Yuma KOISHI (TEAM UKYO) made an attack which was not decisive, but with two laps to go, the stage winner was down to the 16 riders in the main group. In the end of the eighth lap, Benjamin DYBALL (TEAM UKYO) attacked from the leading group, which had been reduced to seven riders, and went into the final lap alone, maintaining a 32-second time gap to the peloton.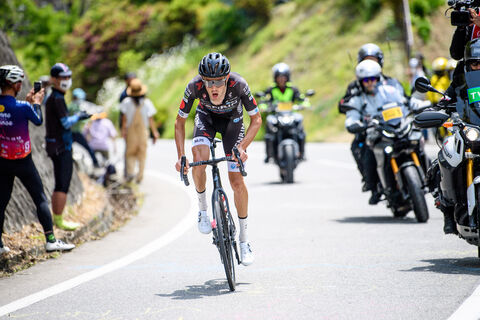 His teammate, Nathan EARLE (TEAM UKYO) chased alone from the scattered peloton.Nariyuki MASUDA (UTSUNOMIYA BLITZEN) and Thomas LEBAS (KINAN RACING TEAM) chased hard in third and fourth positions, but with less than 5km to go, the battle for the stage win was down to two riders from TEAM UKYO.Just before the finish, Benjamin DYBALL (TEAM UKYO) who was in front, let Nathan EARLE (TEAM UKYO) get ahead of him, and EARLE went on to win the first stage. DYBALL came in second, and TEAM UKYO closed out the opening stage with a one-two finish. The 2021 winner, Nariyuki MASUDA (UTSUNOMIYA BLITZEN), is in third place overall, 31 seconds behind.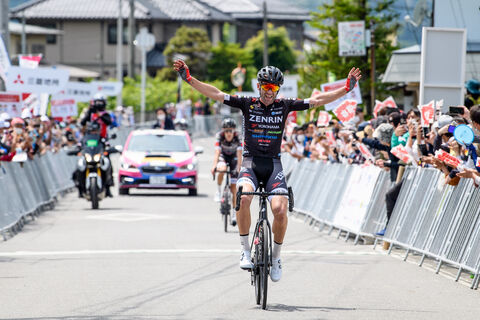 Nathan EARLE (TEAM UKYO)
"I am very happy to be here, racing in Japan, which is very special. I feel little tired, but I am very happy that it was very good success for the team today. I think it is very good situation and good problem, racing against the teammates. We did very good race today. I think it was a very entertaining race for everyone to watch. We are in very good position for GC. Ben is a very strong climber, and I am also in very good condition to climb the mountain, so if Ben or myself win the tomorrow's stage, we are happy either one, because we are in the same team."
Taishi MIYAZAKI (UTSUNOMIYA BLITZEN)
"It is the first time for me to race in the Tour of Japan and honor to win these prizes. I made an error in judgment in the final phase and let Masuda-san use his legs, which left me with some issues to work on. But still, I am very happy to receive the Red Jersey because I have good sensation in my legs. I am a climber, but I do not know how much I can climb tomorrow. I hope I can do my best to give it my all."