ニュース

Tour of Japan 2022 News
Pre-Race Press Conference for Mitsubishi Estate presents Tour of Japan 2022
Thursday, 18th May, 2022
Weather: Sunny, 22℃
The pre-race press conference for the Mitsubishi Estate presents Tour of Japan 2022 was held online and its live streaming took place at the Silk Hotel in Iida City, Nagano Prefecture on Wednesday, 18th May, 2022.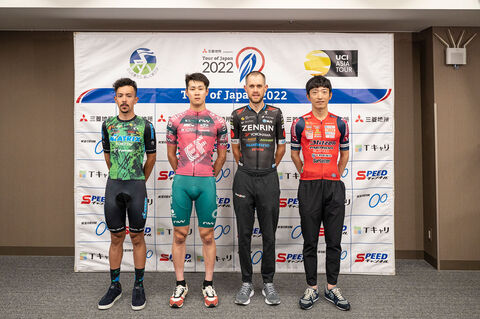 The original plan was an 8-day race, from 15th May to 22nd May, but unfortunately it has been shortened to four days like last year's edition, due to the COVID-19.
At the online press conference, four favorite riders expressed their enthusiasm for the upcoming event.
Nariyuki MASUDA (UTSUNOMIYA BLITZEN)
"It was a 3-day race last year, but this year I am genuinely happy to have one more day, 4-day race. It is not the original version of the Tour of Japan yet, but I am still looking forward to racing this year, because I see the start list with stronger riders than last year.
As a team, we have been preparing for the Tour of Japan in good shape. I will do 100% of what we can do with my teammates, and we will all do our best to win as many as possible. This year, I will once again strive to win the GC as a challenger, so please support us."
Benjamin DYBALL (TEAM UKYO)
"The Tour of Japan is one of my favorite races. The last time when I raced here was in 2015. It has been for a long time. I am very excited to be back. It is good to find that I have come back to Japan.
Everybody in our team is going well this moment. I think we are ready in any situation, and we have riders we could go on the podium at every stage in this tour.
Thank you for supporting my team to the race. Hopefully, we can put on good show for the fans. Thank you for having me in Japan."
Marino KOBAYASHI (MATRIX POWERTAG)
"I am extremely excited because there are strong riders who I do not usually compete together. I am looking forward to seeing how far I can go in this race as a challenger. Our team has the most variety of riders and more options for the race. When it comes to team competition, we are confident, and I think we can win in many different ways.
It will be a tough four days, but I hope we can live through it to the fullest and finally finish the Tokyo Stage with a smile on our faces. Please support us."
Hijiri ODA (EF EDUCATION - NIPPO DEVELOPMENT TEAM)
"This will be my first race in Japan in a long time since last year's Road Cycling National Championships. I am looking forward to communicating with my teammates entirely in Japanese.
The team is all in good shape and I think anyone can win the race. I would also like to race aggressively. I have no jet lag after returning home and my condition is fine.
I am happy to be able to race UCI races in Japan for the first time in a long time, and I hope to be able to show my ability to race overseas in front of Japanese fans. We look forward to your support."
The Tour of Japan 2022 will start in Shinshu Iida stage on Thursday, 19th May, 2022 and continues till Tokyo stage on Sunday, 22nd May, 2022. The total distance of 4 stages will be 418.1km.