ニュース

2021 Tour of Japan News
Pre-Race Press Conference for the 2021 Tour of Japan
Thursday, 27th May, 2021
Weather: Rain 13 degrees
The pre-race press conference for the 2021 Tour of Japan was held online and its live streaming took place at the Oyama Town Culture Center in Oyama Town, Shizuoka Prefecture on Thursday, 27th May, 2021.
The 2020 edition was sadly cancelled due to the effects of the COVID-19, and the 2021 Tour of Japan will be finally held for the first time in two years, although the total number of stages will be shortened to three from eight stages. At the online press conference, four favorite riders expressed their enthusiasm for the upcoming 3-day race.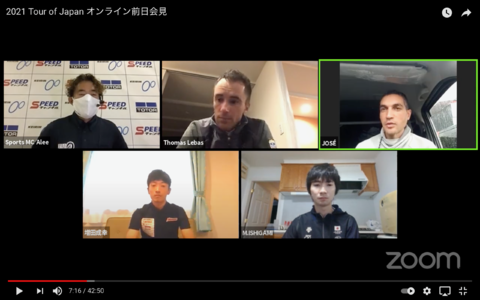 Nariyuki MASUDA (UTSUNOMIYA BLITZEN)
"I feel like I'm finally back in the right place. The race size is a bit scaled down, but I'm excited to race the Tour of Japan for the first time in two years. I'm really happy that we're going to have another big event in this situation this summer.
Unfortunately, there will be no spectators, but I am looking forward to seeing fans soon again. And I expect that the riders will race hard and compete with each other, and all fans will watch it online. I will do my best for the 3-day race from tomorrow."
Thomas LEBAS (KINAN CYCLING TEAM)
"I remember very well that the 2018 Tour of Japan was a very good year for the team. I think that winning the Tour of Japan means a lot for the Japanese team and it is a very good memory for me, of course Garcia (2018 GC winner) and the team.
To our fans, thank you very much for your support. It's a pity that you can't come and support us, but it's also disappointing that we can't hear cheering voices. We are looking forward the next race when the riders and you will be together again."
Jose Vicente TORIBIO ALCOLEA (MATRIX POWERTAG)
"The 2019 Tour of Japan was a great race for me. I've been in good condition so far this year and I'm having a good season. I want to carry this good feeling into this Tour of Japan and I want to enjoy the race itself.
To all my fans, thank you for your support. And I would be very happy if you continue to support me, even you can't come and see the race. If you watch the race on the live streaming, your voice and support will be reached to me."
Masahiro ISHIGAMI (JAPAN NATIONAL TEAM)
"It is the first time for me to race the Tour of Japan and it's hard to predict how the race will go with only Japanese teams. The team has livened up a lot and I think we can have a good race. We will do what we can and try to get as close to 100 percent as we can.
Also, I would like to pay tribute to the organiser for making it possible to hold the UCI race amid the pandemic, which threatened the event. I'm sure there are many people who want to watch the race and support us. If you can watch it online, please keep your eyes glued to the screen and cheer us on."
The 2021 Tour of Japan will start in the west gate of the Fuji International Speedway on 28th May, 2021 and continues till Tokyo stage on 30th May, 2021. The total distance of 3 stages will be about 299km.