NTN presents 2018 Tour of Japan Outline of the Race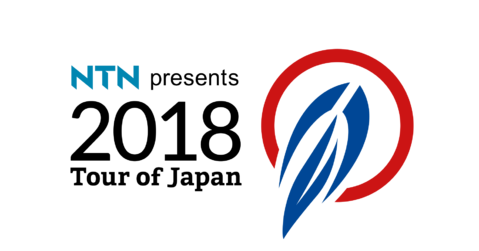 UCI Asia Tour 2.1
NTN presents 2018 Tour of Japan
< OUTLINE OF THE RACE >
-- DESCRIPTION --
UCI Asia Tour 2.1 - NTN presents 2018 Tour of Japan -
-- ORGANIZERS --
Cycle Month Promotion Council
-- SUPERVISOR --
Tour of Japan Organizing Committee
(Secretariat:Bicycling Popularization Association of Japan)
-- RACE SUPERVISOR --
Japan Cycling Federation
-- SUPPORTED BY --
Bicycle Utilization Promotion Headquarters
Cabinet Office, Government of Japan
Ministry of Internal Affairs and Communications
Ministry of Education , Culture , Sports , Science and Technology
Ministry of Economy , Trade and Industry
Ministry of Land , Infrastructure, Transport and Tourism
Consumer Affairs Agency, Government of Japan
Tokyo Metropolitan Government
Osaka Prefectural Government
Mie Prefectural Government
Nagano Prefectural Government
Shizuoka Prefectural Government
J.K.A.
The Asahi Shimbun
The Nikkan Sports News
-- COOPERATION --
Sakai City
Kyoto Prefecture / Kyotanabe City / Seika Town
Inabe City
Gifu Prefectural Government / Mino City
Iida City / Iida Tourism Association
Oyama Town
Izu City / Japan Cycle Sports Center
Tokyo Port Terminal Corporation
-- TITLE SPONSOR --
NTN Corporation
-- TOP SPONSORS --
SPEED CHANNEL
SUBARU CORPORATION
NIPPON TOTOR CO.,LTD.
WOLF BLASS

-- SPONSORS --
DESCENTE LTD.
THULE
Yamaha Motor Co., Ltd.
DyDo DRINCO, INC.
SHIMANO INC.
Amer Sports Japan, Inc.
ZENRIN CO., LTD.
Inoue Rubber Co.,Ltd.
Meiji Co.,Ltd.
Sports Club NAS
NIPPO CORPORATION
KINAN Corporation
MIYATA CYCLE Co.,Ltd.
Panasonic Cycle Technology Co., Ltd.
Matrix Inc.
National Mutual Insurance Federation of Agricultural Cooperatives
Hibino Corporation
OITA CITY / OITA CYCLE FES Executive Committee
TOKYO SAN-ESU CO.,LTD.
Honolulu Century Ride 2018
BRISBANE TO GOLD COAST CYCLE CHALLENGE 2018
KYOTO TOOL CO.,LTD.
Fukaya Sangyo Co., LTD.
OGK KABUTO Co.,Ltd.
Valette Co.,Ltd.
Mizuho Bank, Ltd.
FUYO GENERAL LEASE CO.,LTD.

-- ENTRY TEAMS --
16 teams ( 8 Foreign Teams , 8 Domestic Teams )
BAHRAIN-MERIDA (WT / BAHRAIN)
ISRAEL CYCLING ACADEMY (PCT / ISRAEL)
NIPPO - VINI FANTINI - EUROPA OVINI (PCT / ITALIA)
BENNELONG SWISSWELLNESS CYCLING TEAM (CT / AUSTRALIA)
HKSI PRO CYCLING TEAM (CT / HONG KONG)
JLT CONDOR (CT / UNITED KINGDOM)
LX CYCLING TEAM (CT / KOREA)
TEAM ILLUMINATE (CT / USA)
TEAM UKYO (CT / JAPAN)
KINAN CYCLING TEAM (CT / JAPAN)
UTSUNOMIYA BLITZEN (CT / JAPAN)
MATRIX POWERTAG (CT / JAPAN)
AISAN RACING TEAM (CT / JAPAN)
SHIMANO RACING TEAM (CT / JAPAN)
TEAM BRIDGESTONE CYCLING (CT / JAPAN)
JAPAN NATIONAL TEAM
-- TEAM COMPOSITION --
6 riders / 1 team manager / 1 mechanic / 1 masseur
-- RACE REGULATIONS --
UCI regulations and the specific regulations of this race will be applied.
-- RACE SCHEDULE --
May. 20 - 27, 2018
< THE STAGES >
-- Pre-Race Meeting May 19 (Sat) --
License Control 13:30-14:30
Team Manager's Meeting & Driver's Meeting 15:00-16:30
Race Officials Meeting 16:45-18:00
Comfort Hotel Sakai
-- Stage 1 May 20 (Sun) 13:35 --
Daisen Park Circuit Course
2.6km (Individual Time Trial)
Elevation gain : 10m
The transfer distance from Sakai to Kyoto is about 50km (1h by drive)
Hotel : Kyoto
-- Stage 2 May 21 (Mon) 9:25 --
Fugenji Fureaino Eki - Doshisha University - Fugenji Elementary school -
Keihanna Circuit Course
Celebration Ride 5.5km (Not included in the race distance)
(Race Neutral 3.8km) 4.2km + 16.8km x 6laps = 105.0km
Neutral : -3.4km (9:50)
Actual Start : 0km
Sprint 1 : 37.8km
KOM 1 : 43.4km (Cat.2)
Sprint 2 : 71.4km
KOM 2 : 77.0km (Cat.2)
Finish : 105.0km
Elevation gain : 1,836m
The transfer distance from Kyoto to Inabe is about 110km (1h50m by drive)
Hotel : Yokkaichi
-- Stage 3 May 22 (Tue) 9:20 --
Ageki Station - Shimokawajiri Junction - Inabe Bairin Park Circuit Course
(Race Neutral 3.1km)8.6km + 14.8km x 8laps = 127.0km
Neutral : -2.8km
Actual Start : 0km
KOM 1 : 24.9km (Cat.2)
Sprint 1 : 53.0km
KOM 2 : 69.3km (Cat.2)
Sprint 2 : 97.4km
Finish : 127.0km
Elevation gain : 1,650m
The transfer distance from Inabe to Mino is about 80km (1h20m by drive)
Hotel : Mino
-- Stage 4 May 23 (Wed) 9:15 --
Kyu Imaike Jutaku - Yokogoshi - Mino Washi Paper Museum Circuit Course
(Race Neutral 4.0km) 11.6km + 21.3km x 6laps = 139.4km
Neutral : -4.0km
Actual Start : 0km
Sprint 1 : 32.9km
KOM 1 : 48.9km (Cat.2)
Sprint 2 : 75.5km
KOM 2 : 91.5km (Cat.2)
Sprint 3 : 118.1km
Finish : 139.4km
Elevation gain : 1,218m
The transfer distance from Mino to Iida is about 120km (1h50m by drive)
Hotel : Iida
--Stage 5 May 24 (Thu) 9:15 --
Iida Station - Shimohisakata Circuit Course - Matuo Stadium
(Race Neutral 7.3km) 12.2km x 10 laps + 1.6km = 123.6km
Neutral : -7.3km
Actual Start : 0km
Sprint 1 : 24.3km
KOM 1 : 27.9km (Cat.1)
Sprint 2 : 60.9km
KOM 2 : 64.5km (Cat.1)
Sprint 3 : 97.5km
Finish : 123.6km
Elevation gain : 2,580m
The transfer distance from Iida to Oyama is about 250km (3h40m by drive)
Hotel : Oyama
-- Stage 6 May 25 (Fri) 11:00 --
Fuji International Speedway West Gate - Fuji Interrnational Speedway Peripheral Road Circuit Course - Subashiri Shopping Street - Fuji Azami Line
(Race Neutral 1.5km) 6.3km + 7.4km + 19.2km = 32.9km
Neutral : -1.5km
Actual Start : 0km
KOM 1 : 32.9km (Cat.HC)
Finish : 32.9km (Summit Finish)
Elevation gain : 1,760m
The transfer distance from Oyama to Izu is about 80km (2h30m by drive)
Hotel : Izu
-- Stage 7 May 26 (Sat) 9:00 --
Shuzenji Station - Izu Sogo High School - Intersection of Japan Keirin School Entrance - Japan Cycle Sports Center Circuit Course
(Race Neutral 1.0km) 11.0km + 12.2km x 9laps = 120.8km
Actual Start : 0km
KOM 1 : 37.7km (Cat.2)
Sprint 1 : 59.9km
KOM 2 : 74.3km (Cat.2)
Sprint 2 : 96.4km
Finish : 120.8km
Elevation gain : 3,828m
The transfer distance from Izu to Tokyo is about 160km (2h40m by drive)
Hotel : Tokyo
-- Stage 8 May 27 (Sun) 11:00 --
Hibiya City Bild - Oi Wharf Circuit Course
(Race Neutral 1.2km) 14.7km + 7.0km x 14 laps = 112.7km
Neutral : -1.2km
Actual Start : 0km
Sprint 1 : 28.7km
Sprint 2 : 56.7km
Sprint 3 : 84.7km
Finish : 112.7km
Elevation gain : 100m
Hotel : Tokyo
TOTAL 764.0km
Total Elevation gain : 12,982m
Tour of Japan Organizing Committee
(Secretariat:Bicycling Popularization Association of Japan)
tojinfo@jifu.jp